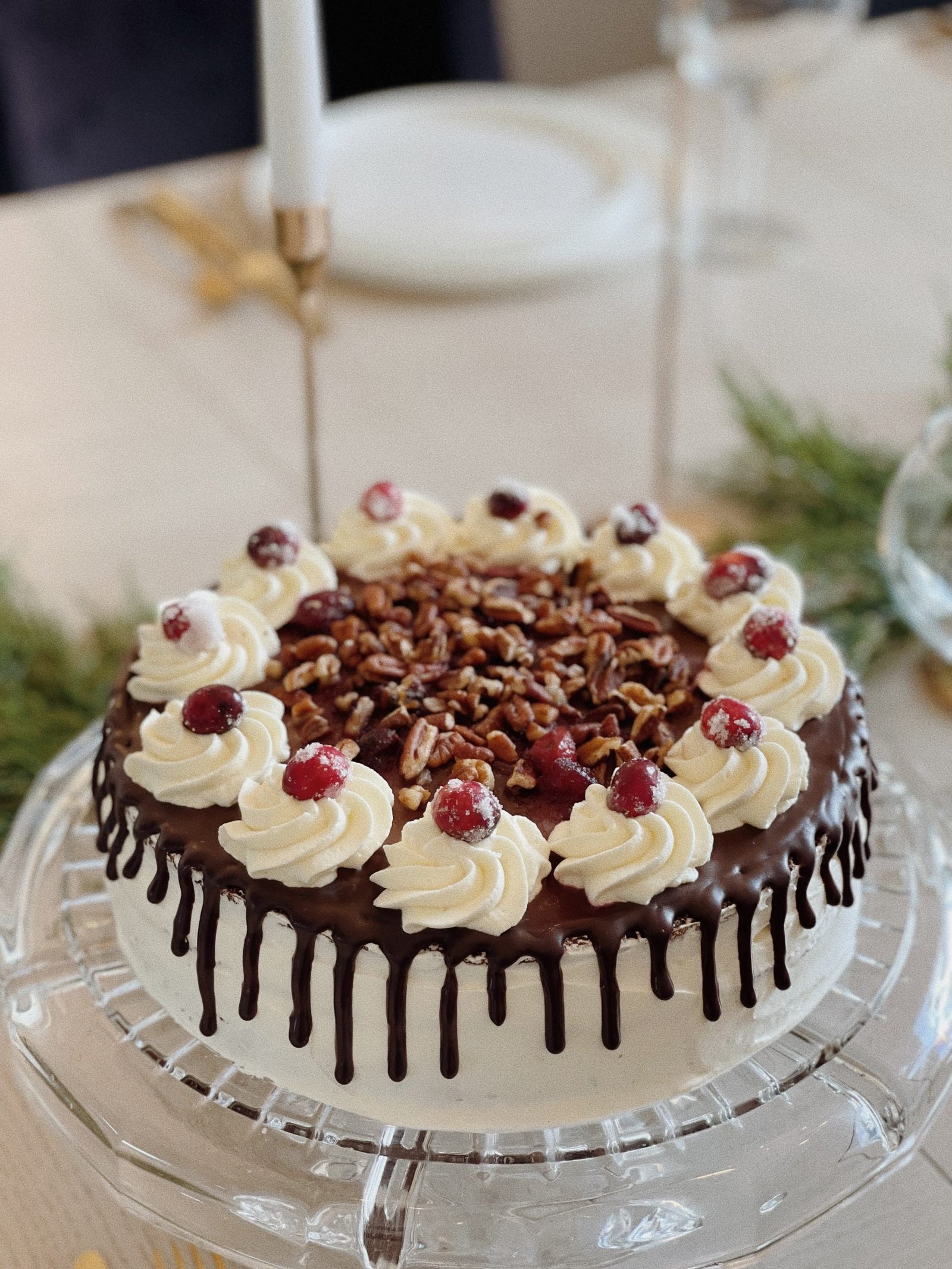 This cake is so smooth and rich. Decorate the sides or the top of the cake with crushed pecans and decorate the top with sugar coated fresh cranberries. You'll want to serve this cake in small pieces, but beware, it is addicting.
Ingredients:
Cake:
3 eggs
10 oz sour cream
10oz sugar
10oz all-purpose flour
4 Tbsp. cocoa powder
1 tsp. baking soda


Filling:
3/4 stick unsalted butter- softened at room temperature
½ pack cream cheese-room temperature
3/4 can condensed milk
½ -14oz can Ocean Spray Whole Berry Cranberry Sauce
1- 8oz cool whip cream-room temperature
1 cup toasted pecans, finely chopped


1 can condensed milk


Chocolate Glaze:
¾ cup melting chocolate
½ stick butter
Direction:
Preheat oven to 350°F.
In large bowl, beat eggs, sugar and sour cream with electric mixer on low speed 30-45 seconds, scraping bowl constantly. In separate bowl combine together flour, baking soda and cocoa powder -add that in to the egg mixture- beat on Low until just mixed. Pour into 9' round baking pan. Bake in the preheated oven until a toothpick inserted near the center comes out clean, 40 to 45 minutes. Let it cool. Cut cake horizontally in three layers.
Beat butter with electric mixer on high speed for about 2-3 minutes until creamy and fluffy add cream cheese and condensed milk and beat for additional 2-3 minutes add cool whip cream and mix it well.
Spread 1 can of condensed milk evenly to all three layers.
Place bottom layer on a serving plate, spread with 1/2 of cranberry sauce (about 2-3 Tbsp. per each layer), over cranberry layer spread 1/2 of cream/filling. Repeat layers. Refrigerate cake.
In top of a double boiler over hot water, combine the bittersweet chocolate and butter. Stir until melted and completely combined. Remove from heat and let cool for couple minutes.


Drizzle spoonful of glaze along the edge of the cake, allowing the glaze to drip down and coat the sides. Pour the remaining glaze on top of the cake. Cover the sides of the cake with ½ cup chopped pecans, gently pressing them on with your hand. Sprinkle the top with chopped pecans and sugar coated fresh cranberries. Refrigerate cake until ready to serve.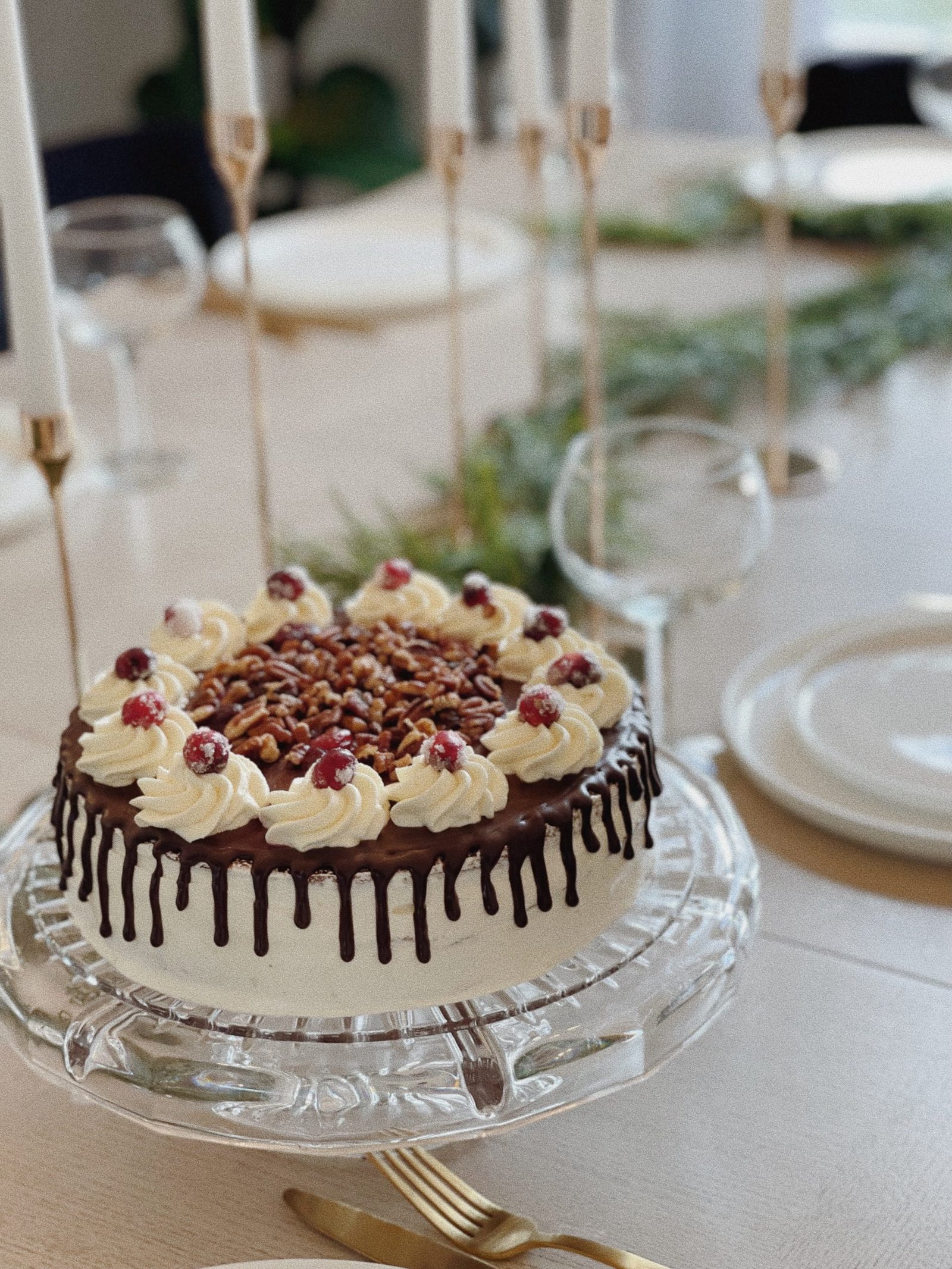 Enjoy!!!
Enjoy this post? Please share it!
This post was written by Inessa , the creator of GrabandgoRecipes. Want to share GrabandgoRecipes with your friends and family? Click the 'like' or tweet button to the left and spread the love! Thanks so much and God Bless!