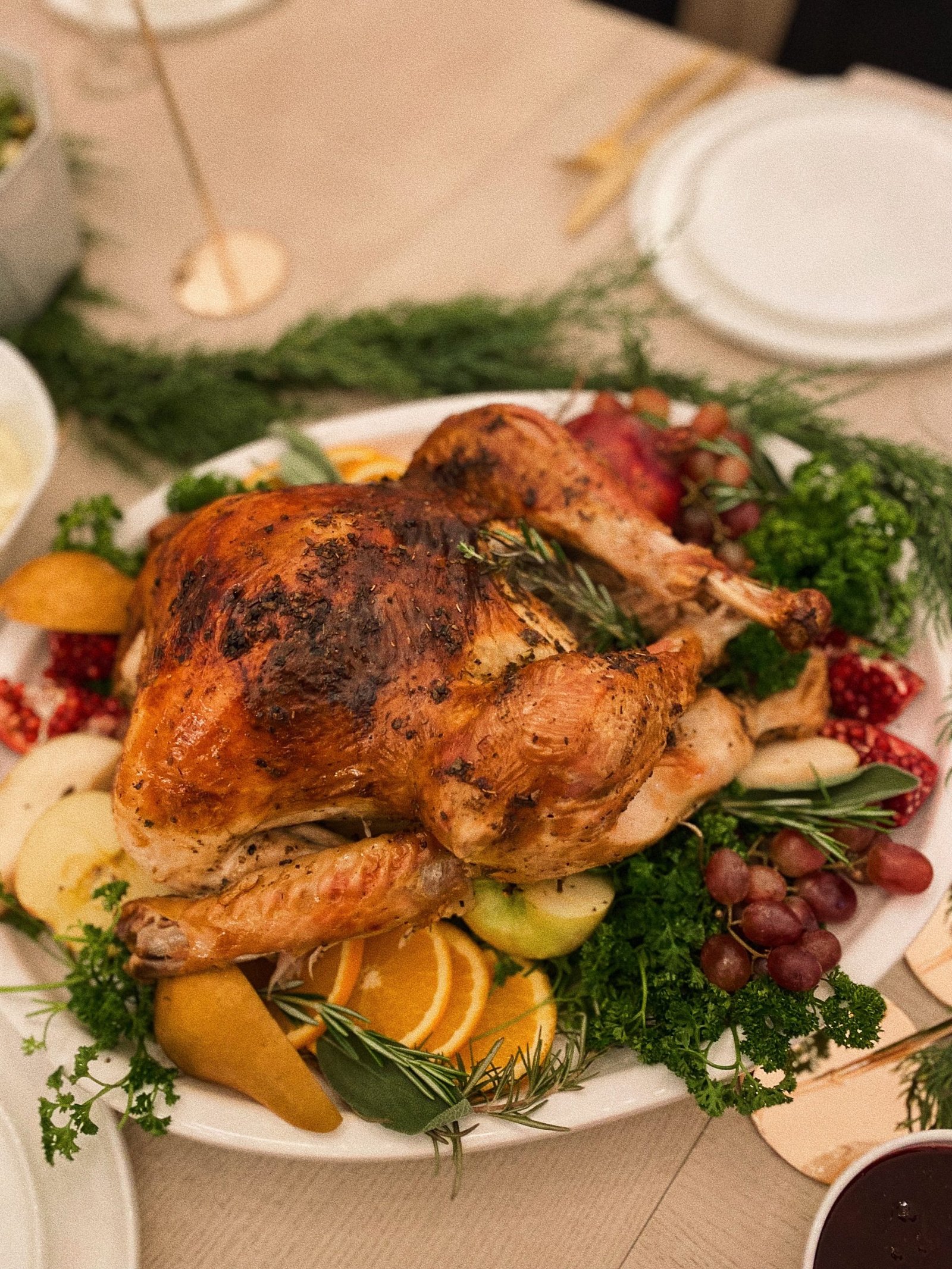 The secret to a moist, flavorful, juicy turkey is simple-brine it before cooking!!!
Brine is like a marinade, it keeps turkey moist and tender. Give it a try!
Ingredients
Brine:
7 quarts water
2 cups apple juice
1 fresh squeezed lemon juice
2 cups orange juice
3/4 cup kosher salt
2 Tbsp. granulated sugar
1 head garlic, cut in 1/2 horizontally
6 bay leaves
1 (10-14 pound) turkey
Herb crust:
1/2 bunch fresh rosemary, leaves finely chopped-optional
1/2 bunch fresh sage, leaves finely chopped-optional
2 sticks butter, room temperature
½ tsp. Black pepper
½ tsp. salt
In a large container combine all of the ingredients for the brine.
Remove the giblets and neck from inside the thawed turkey. Rinse the outside and inside of the bird thoroughly. Using paper towels, pat the turkey dry. Place an oven roasting bag in a large soup pot with the opening of the bag over lapping the rim of the pot, carefully place the turkey in the bag.
Slowly pour the brine into the bag and tie a loose knot. Refrigerate for at least 24 hours, turning the bird once half way through brining.
Preheat the oven to 450 degrees F.
When it's time to roast the turkey, rinse it again. Pat the turkey dry. Combine all the herb crust ingredients in a small bowl. Starting at neck opening-breast, gently loosen skin on turkey and evenly spread 1/2 of the butter mixture under skin. Tie legs together with kitchen string.
Arrange turkey, breast side up, in large roasting pan with rack; rub remaining butter mixture over outside of turkey. Cover with heavy-duty aluminum foil and roast at 450 degrees F. for 30 minutes. Decrease oven to 325° and roast for another 2 ½ hours. Remove foil and continue roasting, about 45-60 minutes, basting occasionally with pan juices. Remove the turkey from the oven when an instant-read thermometer inserted in the thickest part of the turkey registers 160 degrees F. Let stand covered loosely with foil 20 minutes before carving.
Enjoy!!!