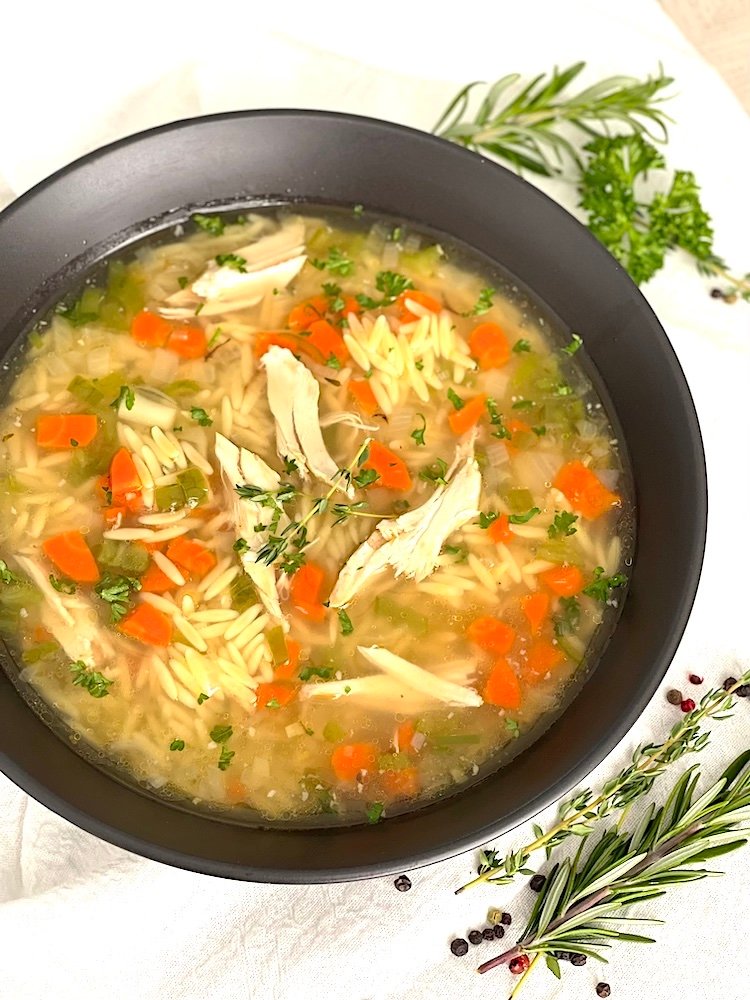 Who doesn't' love Turkey Soup? The day after Thanksgiving means lots of leftovers and that means turkey soup. Don't waste the turkey carcass! The delicious broth combined with a few vegetables and noodles is gold mine of flavor.
Weekend after Thanksgiving is our family's tradition to decorate our Christmas three and what could be better than a bowl of turkey soup for lunch.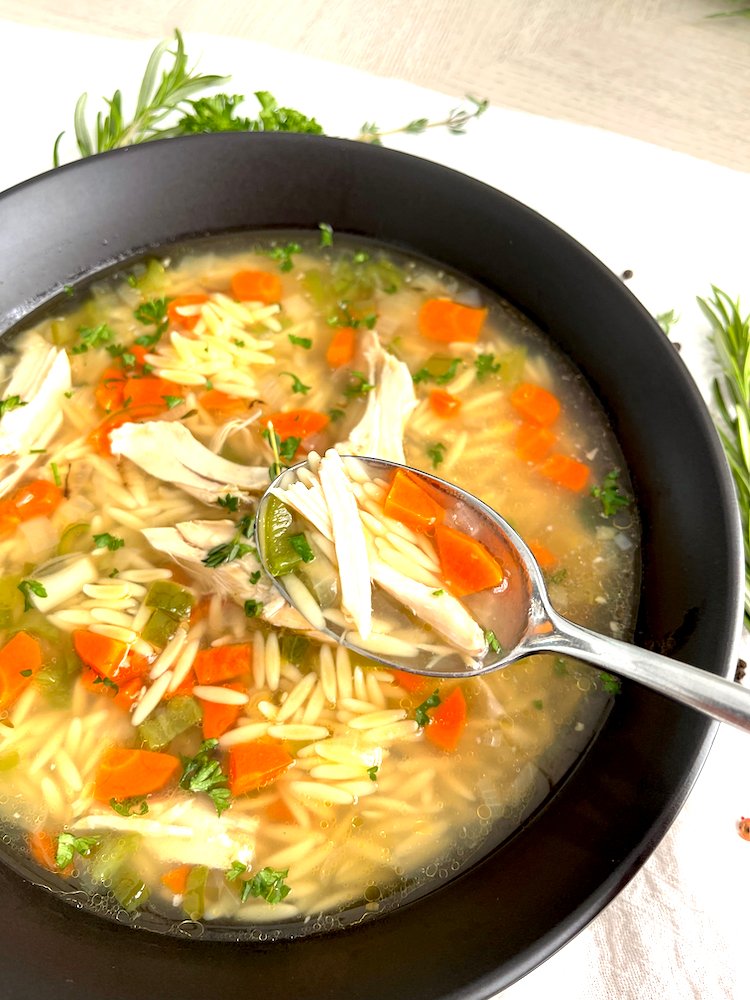 Ingredients:
Broth:
1 leftover turkey carcass (all the bones with some meat from a 12- to 14-pound turkey)
4-5 quarts water
1 onion
1 carrot
2 bay leaves
Black pepper and Salt
Fresh herbs- I used time and rosemary
1 cup uncooked Orzo pasta looks like rice, but it's just pasta
2 medium carrots, diced
2 celery ribs, diced
1 medium onion, diced
1 garlic clove, minced
1Tbsp. olive oil
1Tbsp. fresh lemon juice-Adds brightness and "wakes up" the soup!
Salt and pepper to taste
Fresh herbs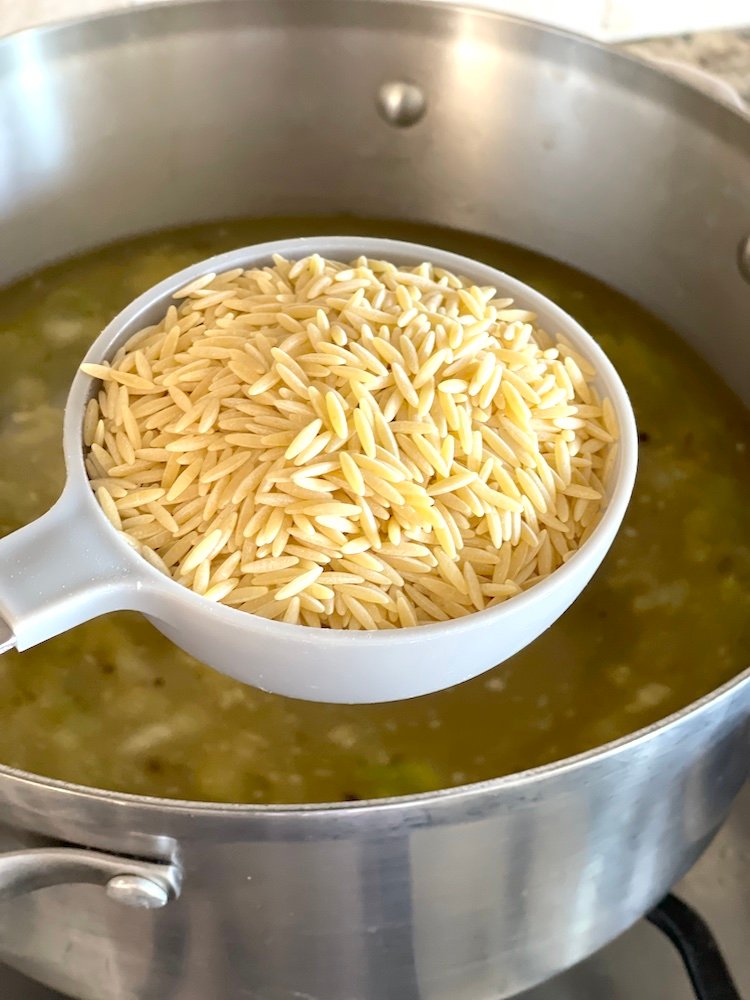 Instruction:
Cut down carcass to fit into a large pot.  Place turkey carcass, water, one onion cut in quarters, 1 carrot cut in chunks and bay leaves in a large pot; season with salt and black pepper and bring to a boil. Reduce heat; cover and simmer for about an hour.
Remove carcass; cool. 
Into large skillet add oil and sauté onions and garlic for couple minutes. Add carrots and celery and sauté for another 2-3 minutes. Turn off the heat.
Remove meat from bones and cut into bite-size pieces; set meat aside. Strain broth and skim fat;
Add onion mixture, turkey meat and orzo pasta into the broth and bring to a boil. 
Lower the heat and simmer until orzo are tender about 10-12 minutes. Add lemon juice and season to taste with salt and black pepper. Sprinkle with fresh herbs.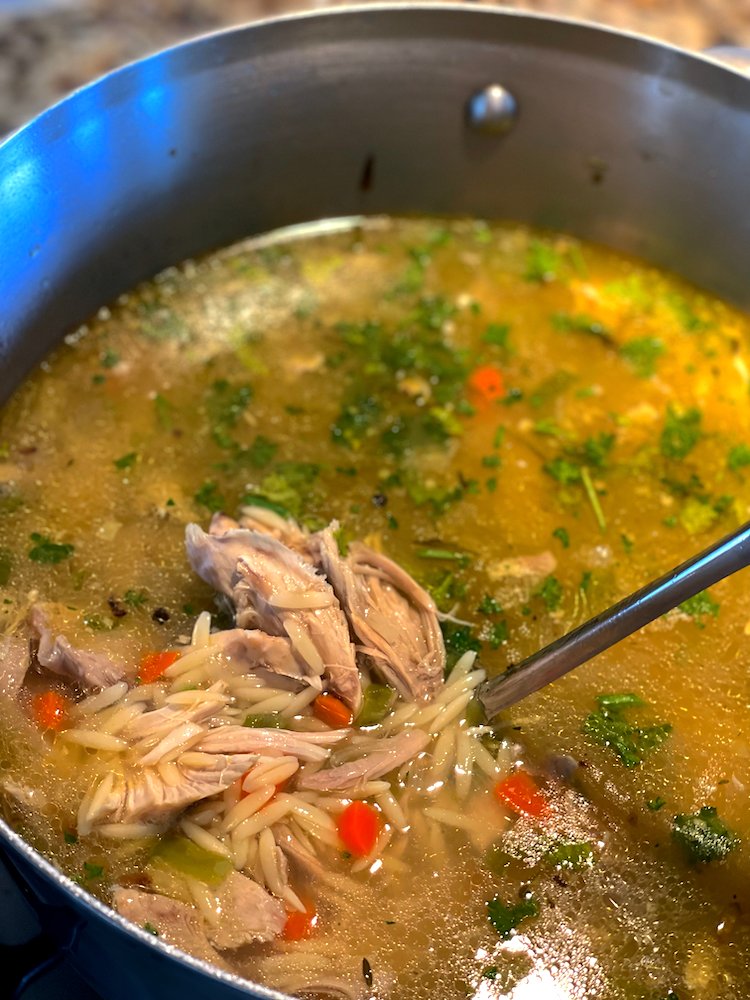 Enjoy!!!