Jump to recipe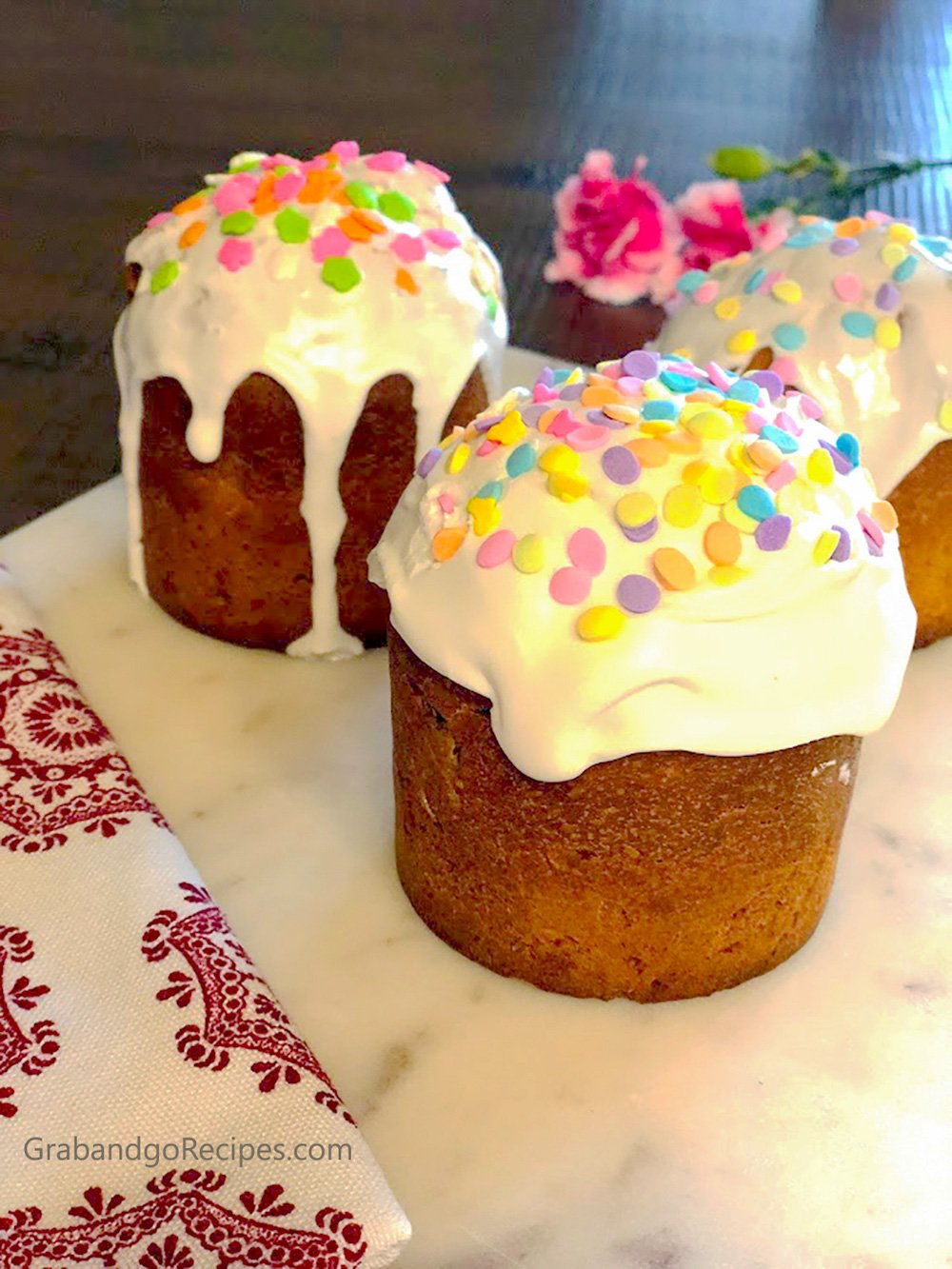 Russian Kulich also known as paska (sweet Easter bread) is fluffy, fragrant, soft and aromatic butter bread; typically served at Easter, but is delicious any time of year. Kulich is baked in a tall cylindrical pan; a 2-pound empty coffee can is a perfect size and shape, but other pans in different sizes may be used as well
***All ingredients should be room temperature.
Ingredients:
For the dough:
10 large egg yolks
4 large eggs
3 cups sugar
1 cup milk
2 sticks unsalted butter, (1/2 lb. or 225 gr), melted
1 cup sour cream
3 Tbsp. yeast
1 tsp. Vanilla
1/2 teaspoon saffron threads
1g (1/2 teaspoon) salt
1 ½ cups raisins (I used yellow and brown)
1/8 tsp. ground nutmeg
1/8 tsp. ground cardamom (optional)
9 cups all-purpose Canadian flour ( I bought mine from Winco store)
For the egg wash:
1 egg yolk
1 tablespoon milk
For the icing:
1 1/2 cups powdered sugar
1 tsp. lemon juice
1 egg white
3 paper panettone molds – I got them at Amazon
Instructions:
Soak dried raisins in warm water for at least 2 hours.
Soak saffron with 1 tablespoon of boiling water and set aside.
Combine 2 Tablespoons of yeast, 1 cup of sugar with warm milk. Add 2 cups of flour and mix well. Cover with plastic and set aside in warm place or a warm oven (100˚F) for 30 minutes.
Meanwhile beat the eggs, egg yolks and remaining sugar until light and creamy.
Combine egg mixture with the dough, add additional 1 tablespoon of yeast and mix well. Cover with plastic and set aside in warm place or a warm oven (100˚F) for about 2 hours.
Drain raisins and pat dry with the towel.
Add sour cream, saffron mixture, vanilla, salt, nutmeg and cardamom and mix well. Start adding 7 cups of flour one cup at a time and with an electric mixer fitted with a dough hook mix on low speed until well combined (about 10-15 minutes). After that, start adding the butter (1 tablespoon at a time), incorporating well before adding the next spoon. Mix for additional 15 minutes on low speed until the dough is smooth and elastic and no longer stick to your hands. Add raisins and mix until combined, then transfer the dough to a buttered bowl, cover with plastic and set aside in warm place or a warm oven (100˚F) for about 2 hours.
Divide the dough in 3 equal pieces. Gently roll each piece into a ball (try not to overwork the dough) and place into the molds. Cover loosely with kitchen towel and place in a warm oven – (100˚F) for additional 2 hours or until dough reaches the top of the molds.
Gently take the molds out of the oven and preheat the oven 310˚F.
While oven is preheating combine the egg yolk with the milk. Brush the tops of the loaves with the egg wash. Transfer the molds to the oven, and bake for 15 minutes, then increase heat to 350˚F and bake until the tops are golden brown about additional 30 minutes.
Cool the loaves in molds. When the loaves are completely cool, tear the wrapper/paper mold.
Meanwhile, for the icing, combine powdered sugar, lemon juice and egg white into a bowl, with a hand electric mixer beat until fluffy. If the icing gets too runny, add a little more powdered sugar if it's too thick add a splash of milk.
Once the loaves are completely cool, glaze them with the icing. Top with sprinkles and set aside until the icing has set.
I would love to see your pictures and read your comments! Tag me on Instagram @grabandgorecipes or hashtag me #grabandgorecipes
Happy Easter!!!